If you are thinking about a career as a doctor in the US, now would be the right time to get into this field. According to a research conducted by Association of American Medical Colleges (AAMC), the United States will see a shortage of nearly 122,000 physicians by the year 2032, as the demand for physicians continues to grow.
This projected shortage includes both primary care and specialty care areas. With this rising demand, come lots of opportunities for those interested in getting into this field. The government is addressing this problem by creating new residency positions each year to make room for upcoming doctors.
If you are interested in becoming a doctor in the US, the following guide would be of use to you. It provides a detailed discussion on a doctor's career and employment trends, along with a quick look at how to become a doctor in the US.
Types of Doctor Careers in the US
The field of medicine is very vast. You can choose to become a part of the many specialized areas, such as the following:
Anesthesiologists
Internists
Obstetricians and Gynecologists
Pediatricians
Surgeons
Psychiatrists
Chiropractors
Dentists
Optometrists
Veterinarians
Doctor Career Statistics for the US
The US Bureau of Labor Statistics provides a detailed look into the healthcare occupations in the US. This occupation sector is expected to grow by 14% in the years from 2018 to 2028, a rate much faster than the average for all occupation. An addition of 1.9 million new jobs is expected as a result of this growth. The median annual wage for healthcare practitioners and technical occupations was $66,440 in May 2018.
As a point of comparison, let's take a look at the sub-category of doctors – Physicians and Surgeons. The following table provides a quick look at the career of Physicians and Surgeons in the US:
| 2018 Median Salary | $208,000 or more |
| --- | --- |
| Job Outlook, 2018-28 | 7% |
| Number of Jobs, 2018 | 756,800 |
| Employment Change, 2018-28 | 55,400 |
The salary for this category of doctors is the highest for any other occupation.
Doctor Career Outlook in the US
The job outlook for medical professions is very positive. Job prospects and employment opportunities will also vary according to the state. The following chart depicts states with the highest number of jobs for Surgeons in the US.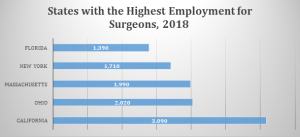 Source: US Bureau of Labor Statistics
You May Also Like

How to Become a Doctor in Delaware
How to Become a Doctor in Michigan
How to Become a Doctor in Mississippi